HONG KONG, Oct 26, 2023 – (ACN Newswire via SeaPRwire.com) – About 65% of enterprises in the Guangdong-Hong Kong-Macao Greater Bay Area (GBA) have adopted green and sustainable development practices in business operations, and about 70% said they would consider using more of Hong Kong's green products and services over the next two years, a research report by the Hong Kong Trade Development Council (HKTDC) and UOB revealed.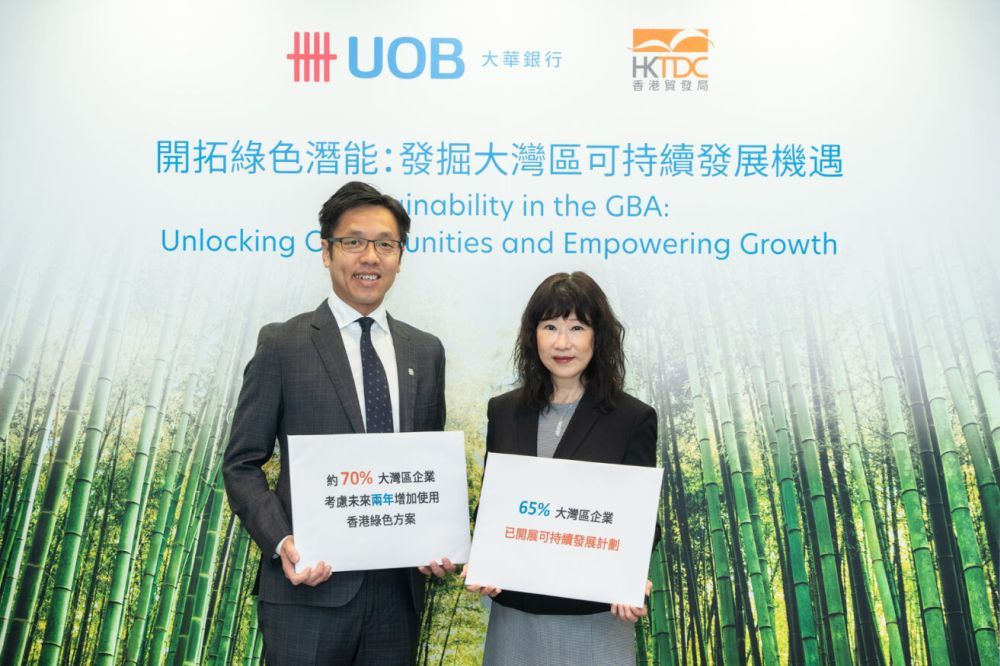 The report, Sustainability in the GBA: Unlocking Opportunities and Empowering Growth, revealed that the top three green practices adopted by GBA enterprises include resource recycling, clean energy adoption and green office practices (notably the use of energy-efficient office equipment, paperless offices and online office systems). Among these enterprises which have adopted green practices, 98% reported positive impact on their businesses, in particular increased brand reputation and brand recognition as well as improved energy efficiency and cost reduction. Other positive impacts include improved governance of corporate compliance and risk control, as well as better chances of securing market and business opportunities.
The report also highlighted that GBA enterprises acknowledge Hong Kong's significant advantages in green building technologies, green consulting services, green financial services and expertise in green sectors and advanced technology. The firms expressed a strong willingness to explore and adopt sustainable development services offered by Hong Kong.
Huge opportunities from growing green and sustainable practices in the GBA
HKTDC Research Director Irina Fan said: "As sustainable development has become increasingly important, GBA-based businesses have become ever more committed to implementing ESG-related strategies. Nearly all GBA business are looking to incorporate ESG into various business aspects, which translates into an average spend of HK$370,000 (US$47,000) per company in the next two years. Now, there are about 3 million enterprises in the GBA, this could mean a scenario of HK$1 trillion ESG investment. Much of which will likely be channelled into Hong Kong-based green partner businesses.
"With high regard for the sustainable solutions offered in Hong Kong (average desirability score of 8.9 out of 10), GBA enterprises are keen to look to Hong Kong-based green partner businesses to accelerate their sustainable practices." She added: "About 70% of surveyed respondents considered to use or increase usage of Hong Kong's green and sustainable solutions. This is a real vote of confidence in the strength and breadth of Hong Kong's green resources."
Brian Lam, Chief Financial Officer and Chief Sustainability Officer, UOB Hong Kong, said: "We recognise the imperative need for GBA enterprises to incorporate sustainability practices into their business strategies. The report highlights the current insufficiency of resources, funds and unified standards towards sustainable development, which poses a challenge to the successful implementation of green transformation plans and achieving decarbonisation targets.
"UOB takes our responsibility to provide and channel capital to facilitate continued investments in sectors that are critical to the energy transition very seriously. With the growing demand for sustainable finance, our aim is to simplify access to sustainable financing for clients, strengthen their ESG capabilities and support them in the crucial task of transitioning their business models to reduce carbon emissions and seize new business opportunities. Together, we create a greater positive impact and drive sustainable progress."
Growing emphasis on GBA green sustainable development
The report revealed that almost all (99.7%) of surveyed GBA enterprises planned to incorporate or increase the level of ESG elements in their operations over the next two years, demonstrating commitment to ESG practices. Moreover, more than 90% of GBA enterprises intended to increase or maintain ESG-based investments over the next two years, with 30% planning an increase and 64% maintaining current investment levels. GBA enterprises expected to allocate an average budget of HK$370,000 (US$47,000) to ESG initiatives over the next two years.
Insufficient experience, funding pose obstacles
However, GBA enterprises generally believed that a lack of experience (77%), cost pressures (67%) and an absence of unified standards (61%) were the key obstacles hindering the implementation of green sustainable development. Surveyed enterprises said the market lacked standardised guidelines and success stories. Many enterprises were concerned about significant upfront investments or difficulty in achieving short-term returns. Existing green standards were also relatively fragmented, with different standards in domestic and international markets, as well as significant industry differences, which discouraged enterprises interested in green transformation.
GBA enterprises look to Hong Kong's green services
A majority of respondents saw Hong Kong as likely to provide a higher level of green-related services than many comparable mainland cities. Among the areas where Hong Kong was seen as a particularly strong performer were green construction technology, climate risk assessment to a global standard, design consultancy services, green financial services, and the provision of green technology. Most respondents felt that Hong Kong was home to a substantial pool of environmentally aware professionals.
In specific terms, about 70% of surveyed respondents considered to use or increase usage of Hong Kong's green and sustainable solutions in next two years. More than 90% believed the city could help effectively accelerate green sustainable development within the region through the deployment of green technology (especially with regard to construction, energy efficiency and recycling) as well as via the greater availability of a variety of green financial products and services. A substantial number of respondents also indicated they were likely to use of a range of Hong Kong's other green-related services, including green certification and carbon emission measurement (89%), green financial services (88%) and energy transition programmes (86%).
GBA enterprises are very keen to learn more with regard to the sustainable development services offered in Hong Kong, with an average desirability score of 8.9 out of 10. The top five preferred green products and services include utilising green applications provided by Hong Kong; engaging sustainable development roadmap planning and consultancy services; accessing green-focused professional talents/services and advanced technology; benefiting from ESG reporting, due diligence, ESG ratings and green asset valuation services offered by Hong Kong; and utilising green financial products and services.
The HKTDC-UOB survey was conducted in July and August this year through an online questionnaire completed by 300 leading enterprises in the 11 GBA cities. In addition, a series of in-depth interviews saw a broad cross-section of GBA industry professionals outline their views on Hong Kong's green development capabilities and their own ESG implementation strategies.
About HKTDC
The Hong Kong Trade Development Council (HKTDC) is a statutory body established in 1966 to promote, assist and develop Hong Kong's trade. With 50 offices globally, including 13 in Mainland China, the HKTDC promotes Hong Kong as a two-way global investment and business hub. The HKTDC organises international exhibitions, conferences and business missions to create business opportunities for companies, particularly small and medium-sized enterprises (SMEs), in the mainland and international markets. The HKTDC also provides up-to-date market insights and product information via research reports and digital news channels. For more information, please visit: www.hktdc.com/aboutus. Follow us on Twitter @hktdc and LinkedIn
About UOB
UOB is a leading bank in Asia. Operating through its head office in Singapore and banking subsidiaries in China, Indonesia, Malaysia, Thailand and Vietnam, UOB has a global network of around 500 offices in 19 countries and territories in Asia Pacific, Europe and North America. Since its incorporation in 1935, UOB has grown organically and through a series of strategic acquisitions. Today, UOB is rated among the world's top banks: Aa1 by Moody's Investors Service and AA- by both S&P Global Ratings and Fitch Ratings.
For nearly nine decades, UOB has adopted a customer-centric approach to create long-term value by staying relevant through its enterprising spirit and doing right by its customers. UOB is focused on building the future of ASEAN – for the people and businesses within, and connecting with ASEAN.
The Bank connects businesses to opportunities in the region with its unparalleled regional footprint and leverages data and insights to innovate and create personalised banking experiences and solutions catering to each customer's unique needs and evolving preferences. UOB is also committed to helping businesses forge a sustainable future, by fostering social inclusiveness, creating positive environmental impact and pursuing economic progress. UOB believes in being a responsible financial services provider and is steadfast in its support of art, social development of children and education, doing right by its communities and stakeholders.
Media enquires
HKTDC's Communications & Public Affairs Department:
Frankie Leung, Tel: (852) 2584 4298, Email: frankie.cy.leung@hktdc.org
Clayton Lauw, Tel: (852) 2584 4472, Email: clayton.y.lauw@hktdc.org 
UOB Hong Kong:
Susanna Liu, Tel: (852) 2123 7537, Email: susanna.liwy@uobgroup.com
Sarah Tsang, Tel: (852) 2123 7536, Email: sarah.tsangsw@uobgroup.com 
Yuan Tung Financial Relations:
Agnes Yiu, Tel: (852) 3428 5690, Email: ayiu@yuantung.com.hk
Hing-fung Wong, Tel: (852) 3428 3122, Email: hfwong@yuantung.com.hk
Photos Download: https://bit.ly/45QTMHE
Copyright 2023 ACN Newswire via SeaPRwire.com.