SYDNEY, AU, Nov 17, 2023 – (ACN Newswire via SeaPRwire.com) – Black Friday is coming, and BLUETTI is gearing up to dazzle you with an incredible array of discounts, gifts, exclusive offers, and a thrilling new release – the BLUETTI EP760 energy storage system. Mark your calendar: November 8-19 for Early Access and November 20 to December 3 for the official Black Friday event-don't miss out on these fantastic deals!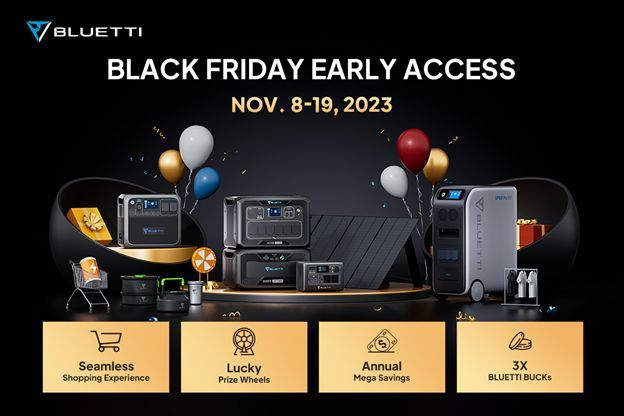 BLUETTI Black Friday Deals on Home Backup Power Stations and Outdoor Generators
BLUETTI Power Stations for Home Backup
– BLUETTI EP500 (2,000W/5,100Wh): The all-in-one power station rolls in like a party on wheels, powering most household appliances like refrigerators and air conditioners. During the summer wildfire season, your home will be cool and bright even if a sudden blackout hits, thanks to EP500's responsive UPS feature. When paired with the BLUETTI PV350 folding solar panels, it can charge up to 1,200W.
BLUETTI Portable Generators for Outdoor Adventures and Emergencies
– BLUETTI AC200P (2,000W/2,000Wh): Compact and powerful, this powerhouse can make your RVing and camping trips a breeze. 13 versatile outlets let you charge all your electronics, cooking appliances, lights and more at once. Throw a few MP200 folding solar panels in your trunk, and you'll see how quickly it fills up with 700W of solar intake.
– BLUETTI EB55 (700W/ 537Wh): At only 7.5kg, it can be taken on the road and almost anywhere you want. It supports pass-through charging, so you can power your fans while it recharges from MP200 solar panels or your car.
The Newcomer: BLUETTI EP760 Energy Storage System
Introducing the BLUETTI EP760+B500 Energy Storage System, a 7,600W battery system that helps you save on energy bills and protect against power outages. Its modularity allows you to build a capacity from 9,920Wh to a maximum of 19.8kWh by choosing the battery packs you need. Connecting it to your solar arrays means you can use free solar energy even at night to lower your electricity costs. The BLUETTI EP760 system debuted on October 25th with an unbeatable launch price
BLUETTI's Black Friday Activities to Light Up Your Black Friday
Lucky Prize Wheels: Customers who spend over A$1500 will have 3 chances to try their luck on the Lucky Prize Wheels, once a day until the end of the Black Friday sale (December 3). The chances of winning are pretty darn good. Spin the wheel to win fantastic BLUETTl prizes including EB3A portable generators, MP200 solar panels, BLUETTl outdoor gift boxes, A$100 and A$50 coupons or even BLUETTl T-shirts and brooch. Prizes will be delivered at the end of January.
BLUETTI Lifestyle Gifts: If your spending crosses the thresholds of A$1500, A$2500, A$4000, or A$6000, you could receive free BLUETTI fridge magnets, a T-shirt, a hoodie, or a mini-fridge accordingly.
Earn 3X BLUETTI Bucks: For every order placed, you'll earn triple BLUETTI Bucks during Early Access from November 8-19, and five times on Black Friday from November 20 to December 3, which can be redeemable for BLUETTI Coupons, Lifestyle Gifts, and more.
Get the Most Out of BLUETTI's Black Friday Sale
Keep your eyes peeled because the best deals can vanish faster than a hot pizza in a room full of teenagers. Stay updated by following BLUETTI on social media and signing up for their official website newsletter. Here's a timetable to ensure you don't miss out on any of the exciting offerings:
– Nov. 8 – Dec.3: Spin the prize wheels and win gifts like the EB3A.
– Nov. 20 – Dec.3: Earn 5X BLUETTI Bucks.
– Nov. 20 – Dec.3: Get gifts with a purchase over A$1500.
– Anytime: Refer a friend and get an extra 5% off.
Feel Confident Shopping This Season
BLUETTI is not your average brand; it's a powerhouse of innovation and reliability. With over 300 patents, their R&D experts consistently deliver groundbreaking products every year. When you shop at BLUETTI, you'll not only get a great product at a fantastic price but also a seamless shopping experience with exceptional service.
– Buy Now and Pay Later (BNPL) service for flexible payment.
– A 30-day money-back guarantee for any quality-related issues.
– Free and Fast local shipping with a vast network of local warehouses worldwide.
– Lifetime customer support, available 24/7 for both pre and post-sale assistance.
About BLUETTI
BLUETTI has been committed to promoting sustainability and green energy solutions since its inception. By offering eco-friendly energy storage solutions for both indoor and outdoor use, BLUETTI aims to provide exceptional experiences for our homes while also contributing to a sustainable future for our planet. This commitment to sustainable energy has helped BLUETTI expand its reach to over 100 countries and gain the trust of millions of customers worldwide.
CONTACT: pr@bluetti.com
Copyright 2023 ACN Newswire via SeaPRwire.com.